Meridian Express lanson fushatë për mbledhje të fondeve për "Action for Mother and Children"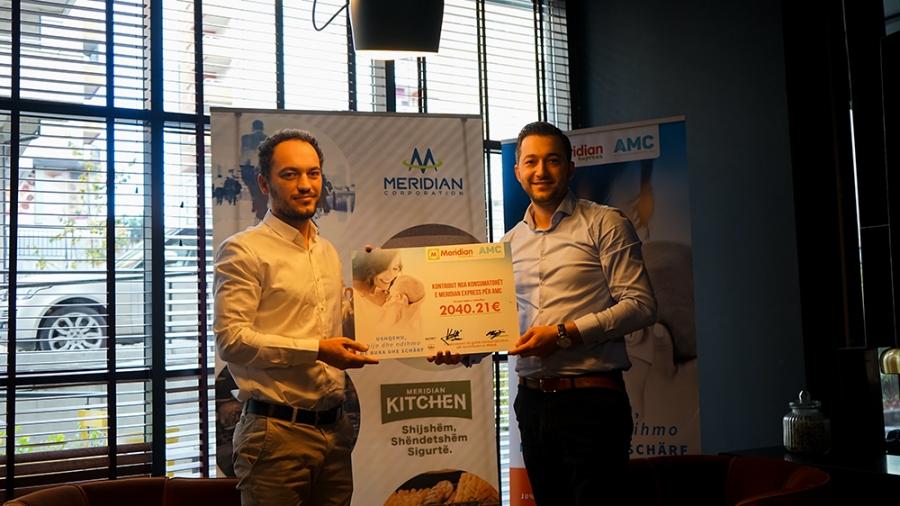 Meridian Express dhuroi 2,040.21 Euro për shëndetin e nënave dhe fëmijëve në Kosovë
Për të dytin vit me radhë, nga data 15 tetor – 30 nëntor, Meridian Express, kontribuoi për shëndetin e nënave dhe fëmijëve në Kosovë. Kontributi i Meridian Express u bë i mundur përmes fushatës "Ushqehu, shijo dhe ndihmo me Buka dhe Schärf" ku 10% e blerjes së këtyre produkteve u dedikua për fondacionin humanitar 'Action for Mothers and Children'.
Në një ngjarje për media, u bë edhe dhurimi i çekut në vlerë prej 2,040.21 Euro nga Meridian Express për Action for Mothers and Children për të mbështetur programet për shëndetin e fëmijëve.
Fushata për ngritjen e fondeve kishte për bazë produktet e brendit Schärf dhe sanduiçëve të ngrohtë të BUKA Bakery, ku për çdo kafe/çaj apo sanduiç që u porosit nga konsumatorët, 10% e vlerës u dhurua në ndihmë të nënave dhe fëmijëve. Këto fonde do të financojnë programet shëndetësore të AMC-së që ndihmojnë klinikat e Pediatrisë, Gjinekologjisë dhe Neonatologjisë në Kosovë.
"Jemi të lumtur që kemi bashkëpuntorë dhe mbështetës të misionit tonë si Meridian Express, ku për vitin e dytë me rradhë organizuam kampanjën për ngritje të fondeve për AMC me anë të shitjes së produkteve të Scharf dhe Buka Bakery. Kjo shumë e ngritur do ndihmojë fondacionin në përmirësimin e shëndetit të nënave dhe fëmijë në Kosovë ku edhe jemi shumë falënderues" u shpreh Vlorian Molliqaj, Drejtor Ekzekutiv – Action forMothers and Children.